App iOS & Mac
Microsoft launches Windows app for Windows, Mac and iOS
The new Windows app should serve as a gateway to the cloud version of the operating system. With the app you can easily switch between different devices and accounts.
A first preview of the new Windows app was released by Microsoft during Ignite 2023. The app is available via the Microsoft app store or via a supported web browser. Microsoft also entered the lion's den and launched the Windows app on Mac and iOS via TestFlight, although the beta version is already sold out at the moment.
Windows users can switch to the new version as follows. First and foremost, you need to update Windows 365 to the latest version. If that is the case, log into your account and you will see a slider with Example. When you turn on, Windows 365 will restart and be renamed Windows app. You can now connect to your saved devices and applications. The web version works similarly, with the difference that you register via the web portal.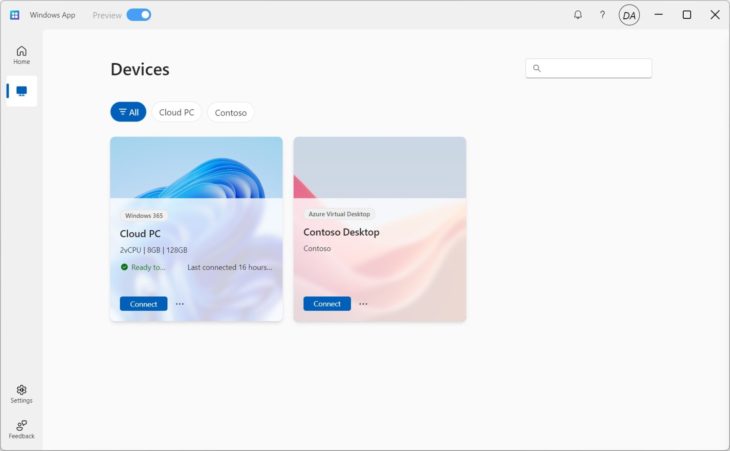 Windows in the cloud
The new app is the gateway to Windows in the cloud. You can access Windows for different services and remote PCs from one place, and pin your favorites that you use most. The application also includes some features to install the virtual desktop experience.
Switch between user accounts
Multiple monitor support
Custom and dynamic screen resolutions
Device redirection, such as webcams, audio, storage devices, and printers
Microsoft Teams optimizations
The preview version is easily available for business and school accounts. Microsoft has not yet announced if and when personal accounts will have access. It has been clear for some time that the future of Windows lies in the cloud. Cloud subscriptions provide reliable revenue and one bad license purchase. With cheaper licenses and new formulas, Microsoft is trying to attract a broad audience to the cloud versions of Windows.
Microsoft Ignite mainly focused on AI within Windows and Office. Missed the conference? You can read all the news via our overview page.