iOS 16.4, iPadOS 16.4 and macOS 13.3 were released today with several new features for Apple's Podcasts app on iPhone, iPad, Mac and CarPlay.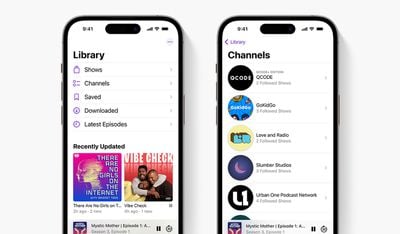 First, a new Channels menu in the Podcasts app provides a list of podcast channels in one place on iPhone, iPad, and Mac. A channel allows a creator or brand to list all their podcasts in one place, making it easy for listeners to discover.
Second, the Up Next queue now includes episodes listeners have saved to their library and episodes they're playing from shows they don't follow:
For example, if a listener plays an episode of a show before deciding to follow it, that episode will now remain in Up Next until the listener plays it, marks it as played, or deletes it. New episodes from followed shows and recently saved episodes appear at the top of the Up Next queue, while episodes listeners have started and older saved episodes appear towards the end. The latest episodes of recently watched shows appear at the beginning of Up Next. Episodes categorized with a "bonus" episode type will also appear in Up Next.
Users also have more tools to manage Up Next. For example, they can touch and hold a show's artwork to remove it from the queue.
Third, users can now see how many unplayed episodes are available to them at the top of each show page, identify "early access" subscriber episodes that are being made available to them as part of their Apple Podcasts subscriptions, and more.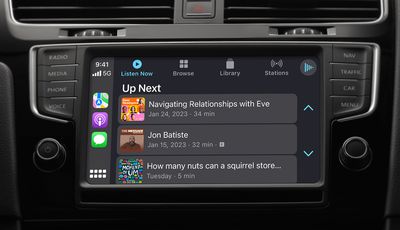 Fourth, iOS 16.4 includes improvements to the Podcasts app for CarPlay, including access to the Up Next and Recently Played queues via Listen Now in CarPlay. And in the Browse tab, there are now editorial recommendations for podcasts.
More details can be found in the "What's new for Apple Podcasts" post on Apple's website.
Popular Stories
iPhone 15 Pro is expected to launch next month with these 12 new features
Apple is expected to unveil the iPhone 15 lineup in September. As usual, there are plenty of new features rumored for the Pro and Pro Max models in particular, including a USB-C port, A17 Bionic chip, titanium frame, action button, and more. Below we've summarized 12 new features and changes for the iPhone 15 Pro models. A17 Bionic chip: iPhone 15 Pro models expected to…
iPhone 15 seemingly spotted in regulatory database as launch approaches
Apple's iPhone 15 is believed to have been identified in India's regulatory database less than a month before the device is expected to be officially unveiled. Last August, just a few weeks before the announcement of the iPhone 14 series, a single iPhone 14 model was spotted in the Bureau of Indian Standards (BIS) database with the model number A2882. This turned out to be the standard…
Everything New in iOS 17 Beta 6
We're probably less than a month away from the launch of iOS 17 and iPadOS 17, which means beta testing will wrap up soon. Apple is now offering weekly beta updates, seeding the sixth beta today. As we approach the end of the beta testing period, updates are getting smaller and smaller, with Apple focusing on crucial refinements and polishes, but there are still a few changes in the latest beta…
Apple Card Monthly Financing no longer available for SIM-free iPhones
Apple today updated its US Apple Card Monthly Installment plan to require those using the feature to purchase an iPhone tied to AT&T, Verizon, or T-Mobile. With this change, the Apple Card Monthly Installment plan can no longer be used to purchase a SIM-free iPhone. All iPhones purchased through the Apple Card monthly plan are unlocked, so switching carriers is…
New iPhone begins production outside China ahead of first-time announcement
Apple supplier Foxconn is starting production of the iPhone 15 in India, the first time a new iPhone has been made outside of China prior to the announcement, Bloomberg reports. The devices will be manufactured at a Foxconn factory in Sriperumbudur, Tamil Nadu. The facility is preparing to ship devices just weeks after they ship from factories in China, narrowing the gap…