App iOS & Mac
Bloomberg: Hardly any new features planned for the iPhone 16, iOS 18 will be a huge update, sideloading of apps will start in 2024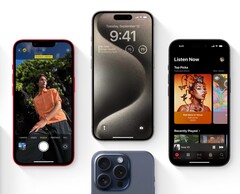 According to the latest information published by Bloomberg editor Mark Gurman, iOS 18 will be an unusually major update for the iPhone. This is because Apple is expected to catch up with Google when it comes to using AI-driven features. Within the company, Apple management is said to describe iOS 18 as "ambitious" and "groundbreaking".
Gurman wouldn't give any specific details about iOS 18, other than to say that Apple is reportedly overhauling the design and improving the operating system's performance and security. Bug fixes are also a priority, with Apple recently suspending new feature development for about a week to fix certain bugs. According to the Bloomberg report, this relatively major iOS update is especially important for Apple, as the iPhone 16 series will not receive any significant upgrades. According to rumors, the iPhone 16 Pro and iPhone 16 Pro Max will have at least slightly larger screens and a 48 MP ultra-wide-angle camera.
Gurman also confirmed rumors about App Store alternatives. Thanks to the European Union's Digital Markets Act, European iPhone users should have access to third-party app stores as early as the first half of 2024. However, this won't make sideloading on iOS as easy as it is on Android – Apple is said to be developing a "strictly contained system" that will allow apps to be installed from sources outside the App Store under certain conditions. iMessages and contactless payments will also be opened up more widely than before to third-party providers.

Since 2009 I have been writing for various publications with a focus on consumer electronics. I joined the Notebookcheck news team in 2018 and have combined my years of experience with laptops and smartphones with my lifelong passion for technology to create informative content for our readers about new developments in this field. Furthermore, my design background as an art director at an advertising agency has given me deeper insights into the idiosyncrasies of this industry.

Growing up in regional Australia, I was first introduced to computers in my early teens, after a broken leg during a football match temporarily condemned me to a primarily indoor lifestyle. Soon after, I was building my own systems. Now I live in Germany, where I moved in 2014, where I study philosophy and anthropology. I am particularly fascinated by how computer technology has fundamentally and dramatically reshaped human culture, and how it continues to do so.