App iOS & Mac
Apple releases iOS 17.1.1 with bug fixes for BMW Wireless Charging and Weather Widget
Apple today released iOS 17.1.1 and iPadOS 17.1.1, minor updates to the iOS 17 and iPadOS 17 operating systems that first released in September. iOS 17.1.1 and iPadOS 17.1.1 come about two weeks after Apple released iOS 17.1, an update that brought new AirDrop, StandBy and Apple Music features.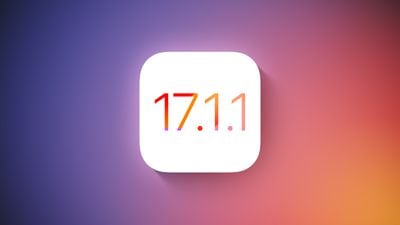 iOS 17.1.1 and iPadOS 17.1.1 can be downloaded wirelessly to eligible iPhones and iPads by going to Settings > General > Software Update.
The iOS 17.1.1 update fixes an issue with BMW's wireless charging and a bug with the Weather Lock Screen widget. There have also been issues with Wi-Fi connectivity and device shutdowns, but it's unclear if anything in iOS 17.1.1 is intended to fix these. Below are Apple's full release notes for the update.
This update provides bug fixes for your iPhone, including:

– In rare circumstances, Apple Pay and other NFC features may become unavailable on iPhone 15 models after wireless charging in certain cars
– The Weather Lock Screen widget may not display snow correctly
Apple is already testing iOS 17.2 and iPadOS 17.2, updates expected to be released in December.
Popular stories
iOS 17.2 adds these 10 new features to your iPhone
Apple made the first beta of iOS 17.2 available to developers and public beta testers almost two weeks ago, and the software update includes many new features and changes for iPhones. Below we've highlighted 10 of these new features and changes. iOS 17.2 is expected to be released to the public in December. Journal app Apple's new Journal app lets iPhone users think about their…
8GB RAM on M3 MacBook Pro 'Analogous to 16GB' on PCs, Apple claims
After unveiling new MacBook Pro models last week, Apple surprised some by introducing a 14-inch base MacBook Pro with M3 chip, replacing the discontinued M2 13-inch MacBook Pro in Apple's Mac lineup. The 14-inch M3 MacBook Pro starts from $1,599 and comes with 8GB of unified memory. That makes it $300 more expensive than the $1,299 starting price of the…
Apple releases new firmware for AirPods Pro 2
Apple today introduced a new firmware update for the AirPods Pro 2, including both the Lightning model and the new USB-C model. The new firmware is version 6B32, an addition to the 6A305 firmware introduced in October. Apple isn't providing details on what features might be included in the updated firmware, so it's unclear what's new in the update, but previous software releases have…
8GB RAM in M3 MacBook Pro proves the bottleneck in real-world tests
Apple's new MacBook Pro models are powered by the very latest M3 Apple silicon, but the 14-inch base model starting at $1,599 comes with just 8GB of RAM. In 2012, Apple launched the first MacBook Pro with Retina display, which also started with 8 GB of RAM. Of course, Apple now uses integrated chips with unified memory architecture, which is why the company is confident in…
Disney+ and Hulu merge into one app, beta coming in December
Disney said today that it will soon combine Disney+ and Hulu into one streaming service, with a unified app available in beta capacity next month. Disney CEO Bob Iger first announced plans to merge Hulu and Disney+ into one app earlier this year. The app will first be offered to those who subscribe to the Disney+ and Hulu bundle, giving these customers one app to access…
iPhone SE 4 likely uses modified iPhone 14 chassis
Following our last in-depth report on the iPhone SE 4, MacRumors has received additional information that further confirms the claims made in our previous article. The iPhone SE 4, also known by the device identifier D59 and project codename Ghost, is a continuation of Apple's budget-oriented line of iPhones and is expected to replace the current third-generation iPhone SE. With the…
iPhone 16 is likely to get exclusive AI features in iOS 18
Apple will unveil a turbocharged version of Siri powered by large language models (LLMs) at WWDC 2024, debuting in iOS 18, but some new advanced generative AI features could be exclusive to iPhone 16 models, according to a new rumor. Last month, Bloomberg reporter Mark Gurman revealed that Apple is developing a host of features that use generative AI, including a "smarter…